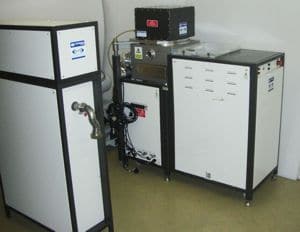 STS Multiplex PECVD , configured for deposition of  SiO2 and Si3N4.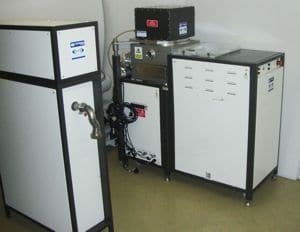 Automatic Load Lock up to substrate size of 8".
Pumping system including Dual stage Rotary and  Roots pumps, compatible with process chemistry.
13,56 Mhz RF generator and  500Watt LF generator, useable  in " Mixed Frequency" mode for  Si3N4 stress control..
Automatic Matching Network for RF .
7 process gas lines with Mass Flow Controllers,  pneumatic valves and inline filters.
Heated lower electrode up to 350°C,  240 mm diameter and  Pin Lift  for substrate loading.
Heated gas shower head.
Heated chamber walls.
View Port for  plasma analysis  and End Point Detection.
Capacitance Manometer for process pressure.
APC Throttle valve.
Closed loop chiller
Process controller based on  486 PC and MS DOS based control  Software .
Input power 380/220 Vac.
This system has been refurbished and it is in working condition.
Pumps will be refurbished before delivery.
Price of the system: 90.000 Euro (excluding any tax and transportation)
Warranty: 3 months on parts.
Our engineers will assist remotely local engineers in fault-finding.
Any defective part should be shipped back to Gambetti for repair.
On site service would be charged at agreed intercompany rates.
Commissioning:
PON
Payment terms:
To be agreed.